How to keep your Twitch chat clean without moderators
October 5, 2023
Twitch is a bustling hub of interactivity where creators engage with their audience in real-time. Maintaining a clean and respectful chat environment is essential for a positive viewing experience. While many streamers utilize moderators to police their chats, what if you're just starting or prefer a more hands-off approach? Fear not, for there are effective ways to maintain a clean Twitch chat without relying on moderators.
Utilizing autoMod bot
Twitch has a valuable built-in tool known as AutoMod, designed to assist streamers in managing their chat without constant human oversight. AutoMod uses machine learning to detect and flag potentially offensive or inappropriate content based on pre-defined rules and community guidelines. Streamers can configure AutoMod to automatically hold or filter out messages that may violate these guidelines, keeping the chat cleaner and more enjoyable for everyone.

Blocking words
Implementing a word blocklist is a simple yet effective method to maintain a clean chat. By creating a list of prohibited words or phrases, you can prevent them from being displayed in your chat. This approach is instrumental in curbing offensive language, spam, or any content that doesn't align with the tone and values of your channel. Regularly updating and refining this list ensures that your chat remains a respectful and positive space for your audience.
Establish custom commands
Empower your community with information and resources through custom commands. You can enhance engagement and provide helpful answers to frequently asked questions by programming specific responses to certain keywords or phrases. This engagement tactic streamlines interactions and ensures that your chat remains on-topic and constructive.
Integrate third-party chat apps
Consider using third-party chat applications that offer advanced moderation features. These tools can provide additional functionality, such as automated filtering, advanced moderation controls, and integration with external platforms.
Employ chatbots
Leverage chatbots to automate various tasks within your Twitch chat. Chatbots can assist with moderation, engagement, and spam control by implementing predetermined actions based on certain conditions. Integrating a chatbot enables you to handle routine tasks more efficiently, ensuring that the chat remains clean and enjoyable for all participants.
Block unwanted users
Moderating your chat includes managing undesirable users. Use Twitch's built-in functionality to block unwanted users who violate your community guidelines. By promptly removing disruptive individuals, you can deter negative behavior and maintain a positive atmosphere for genuine fans and viewers.
Foster a positive chat culture
Creating a welcoming and positive chat culture on Twitch is vital for retaining engaged and respectful viewers. Implement strategies like encouraging friendly interactions, promoting inclusivity, and recognizing good behavior to foster a sense of community. By cultivating a positive chat culture, you can minimize negativity and maintain a clean, enjoyable environment for all participants.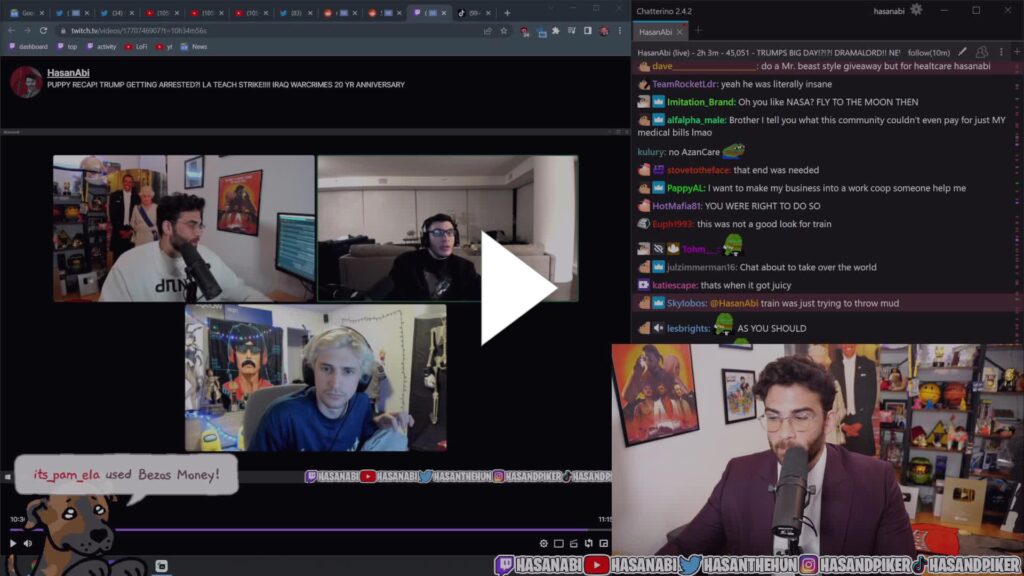 Some other tips to self-moderate chat on Twitch
In addition to utilizing tools like AutoMod and implementing word blocklists, there are several tips and best practices that can help you maintain a clean and engaging Twitch chat:
Establish clear guidelines: Set clear and concise chat rules outlining the behavior you expect from your audience. Display these rules in your chat panels or channel page for easy reference.
Encourage positive interaction: Foster a welcoming and positive atmosphere by encouraging respectful and constructive discussions among your viewers.
Engage with your community: Regularly interact with your audience, addressing questions, concerns, and feedback. Engaged streamers often have more involved and considerate communities.
Educate your audience: Inform your viewers about the kind of content you aim to create and the behavior you expect from them. Educated viewers are more likely to adhere to the established guidelines.
Engage moderators: Collaborate with trusted moderators who can assist in managing the chat effectively.
Communicate expectations: Communicate your chat rules and guidelines to your audience, setting the tone for the chat environment you want to foster.
Encourage reporting: Encourage viewers to report inappropriate behavior, ensuring a proactive approach to maintaining a clean chat.
Regularly review rules: Periodically review and update your chat rules to adapt to changes in your community and ensure continued adherence to a clean and friendly chat.
Keeping your Twitch chat clean and enjoyable is crucial for maintaining a positive streaming experience. Utilizing tools like AutoMod, implementing blocklists, creating custom commands, and following best practices can significantly enhance your chat management without the need for constant moderation. By employing these strategies, you can cultivate a thriving and welcoming Twitch community that enhances your streaming experience.